Stickers Competition 2020
TOFA invites students from Year 1 to 10 to enter the 2020 Stickers Competition.
This year we chose the theme of Ecology and Conservation: "Ecole écologique, c'est logique!".
Download the documents below to find out more about the competition's guidelines.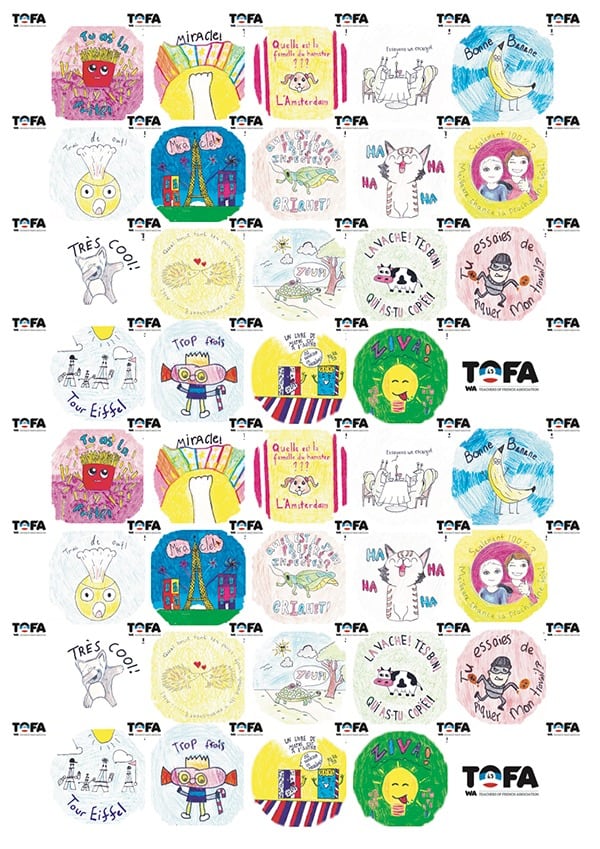 Stickers Competition 2019: Results
Congratulations to our winners for 2019! And thank you to all teachers for your participation.
This year, we received almost 200 designs from 21 WA schools. We loved looking at all the creative designs and found your jokes very funny. Unfortunately, every year a lot of wonderful designs have to be dismissed because of one of the following reasons:
Spelling mistake
Incorrect translation
Illustration copied off google images
Colouring in of background rushed or messy
Make sure you read all instructions carefully next year to ensure your beautiful artwork gets a chance.

Each year, primary and secondary school students express their artistic talent to design and create beautiful motivational stickers.
You can purchase the 2019 stickers for $3 a page (+ postage) by contacting treasurer@tofawa.asn.au .