Every year, the Teacher Of French Association  organises a conference for French Teachers called "Le Stage à la Plage". This full-day event is the most important professional development opportunity for French teachers in WA. It provides primary, secondary, independent and pre-service teachers with teaching strategies and hands-on activities for use in the classroom, helps teachers developing ideas for promoting the teaching of French and supports teachers with the implementation of the curriculum. This social event is also a great opportunity to grow your network, meet new colleagues and share experiences with teachers from all over Western Australia.
TOFAWA is excited to announce the
2019 STAGE À LA PLAGE
with special guest
Tickets are now available for sale at early bird price !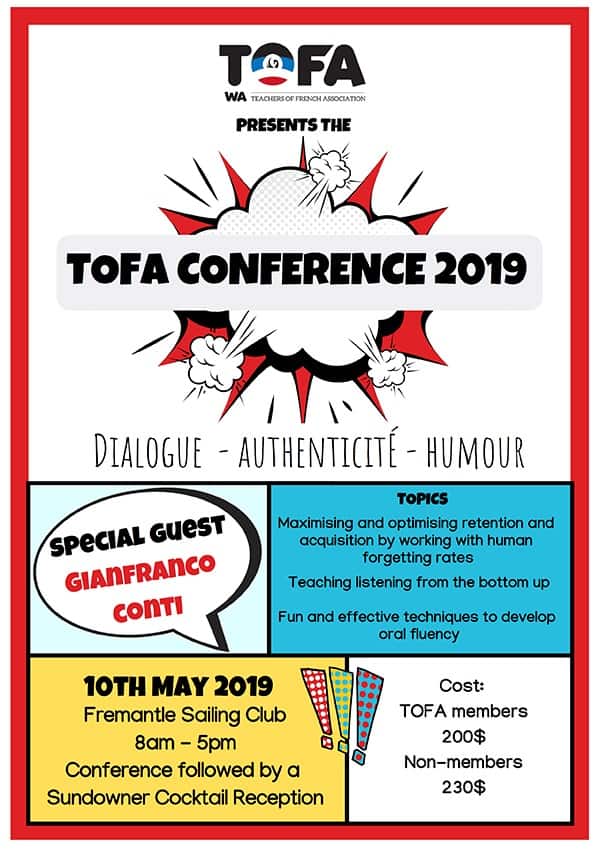 Call for presenters
If you are an innovative and experienced French teacher with efficient language teaching strategies looking for an opportunity to share your best practice with a community of motivated foreign language teachers, please contact us!
The 2018 conference was held on Friday 18 May at Tompkins on Swan. We were lucky to welcome Danièle Bourdais as our guest speaker.